How Rex Bionics exoskeleton can help you reach your
National Disability Insurance Scheme goals in Australia.
The Rex Bionics exoskeleton is a registered supplier with the NDIS in the Assistive Technology categories of Therapeutic supports, custom prosthetics and personal mobility equipment in all states and most territories.
Principles of the NDIS
Rex Bionics Exoskeleton is now registered supplier under the Assistive Technology section of the NDIS.
The principles of the NDIS is for participants to have
Reasonable and necessary supports
Reasonable value for money
Engage providers of your choice
Enable participants in work, social, community and recreational activities
Allow participants to reach their goals and aspirations and live a more independent life.
What is an Assistive Technology?
Assistive technology (or AT), as defined by the World Health Organisation, is:
any device or system that allows individuals to perform tasks they would otherwise be unable to do or increases the ease and safety with which tasks can be performed
Achieving GOALS – new TASKS and ACTIVITIES for greater independence, social, community and recreational activities
If the goals you have set in your NDIS plan are to perform new tasks and activities or manage these more easily and safely, this is where REX can be useful.
If performing new tasks and activities (or improving how you are doing now) requires you to develop more flexibility, strength, balance or endurance, REX is an exoskeleton platform where specific repeatable and accurate exercises (REXERCISES™) can be tailored by a physiotherapist to quickly address many of your needs.
EXERCISES to IMPROVE STRENGTH, FLEXIBILITY,
BALANCE and ENDURANCE
The REX exoskeleton provides a stable platform for you to perform exercises in not only an upright position, but walking backwards, sideways, in a lunge or squat position or whilst you are walking in the REX.
Unlike any other exoskeleton available, REX does not require the use of poles or sticks to balance whilst you are walking or performing exercises. This allows your arms to be free to use the regular equipment found in a gym i.e. balls, weights, pulleys etc.
Exercising in REX at home or at a gym gives you the chance to do upper and lower body exercises, stretches, as well as walking. By performing REXERCISE in an upright position, you can access a variety of muscle groups. REXERCISES are different for each person – some REX users like a good workout, while for others being upright and walking provides all the movement they need.
Rex Bionics has worked closely with rehabilitation experts to develop upper and lower limb functional exercises. REXERCISES™ mode is an advanced combination of static positions and dynamic patterns, that enable therapists to increase the dose, intensity and specificity of rehabilitation. REXERCISES gives therapists options to tailor programmes that fit your goals.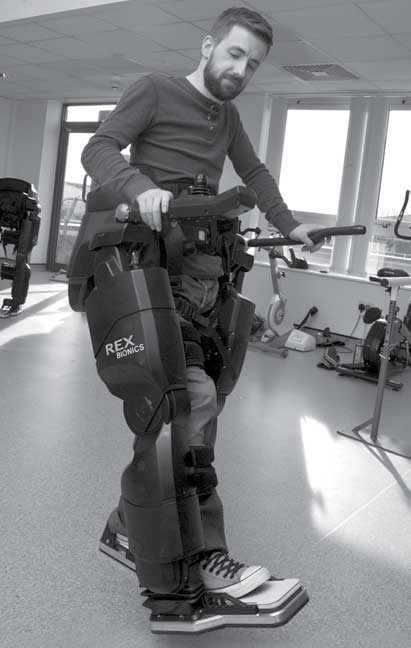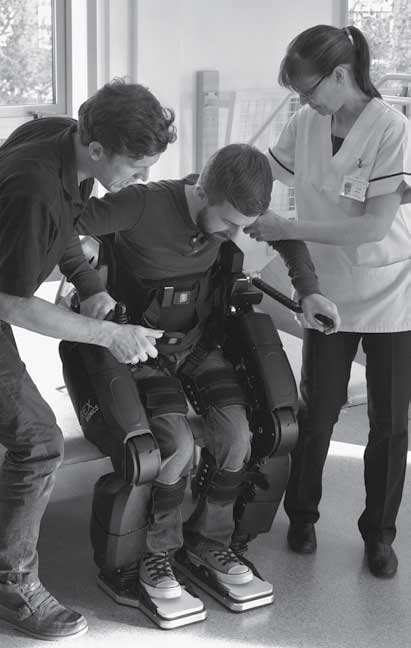 BEING UPRIGHT- good for preventing complications
Wheelchair users are at risk of developing numerous medical complications from extended periods of sitting. By spending more time, standing, walking and exercising, REX may offer significant health benefits, including improved sleep, cardiovascular performance, maintenance of joint range, and a reduction in common abdominal problems including bladder and bowel problems and prescription drug use.
A programme of worldwide clinical trials are now underway to evaluate these potential benefits.
HANDS FREE USE and EASY to USE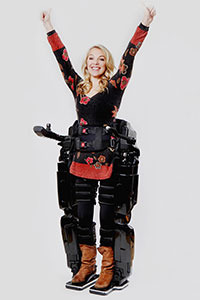 REX does not require the use of additional supports (e.g. crutches or poles), and is quick and easy for users to learn. REX can be used by people with complete spinal cord injury, as well as people who have suffered a stroke or other traumatic brain injury; and people with multiple sclerosis and other neurological conditions. REX  for use in the home, enables users to undergo at home rehabilitation with their hands free providing for more exercise options.
Socialising with REX- seeing eye to eye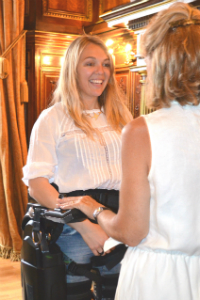 When standing in the REX, you are your full height as the REX is tailored to your specific measurements. Standing tall when socialising can have profound effects and in most indoor environments, REX can get you seeing eye to eye again with your friends and family.
APPROVED by the TGA in Australia
Both REX-P (personal use)  and REX rehab are registered with the TGA – Medical device Class 1. Click the button below to see the listing in the TGA register.
How can I access REX through my NDIS plan?
Everyone's situation is different and we look forward to helping you understand how REX exoskeleton can benefit you reach your goals through exercising upright and how to access the use of REX through your NDIS plan.
Please contact us to discuss REX and your NDIS plan:
Take the Quiz to see if REX is suitable for you: