REX is a hands-free robotic device for rehabilitation
Designed for people with mobility impairments, including those with more severe disabilities, REX offers rehabilitation options and enhances mobility for a wide range of people.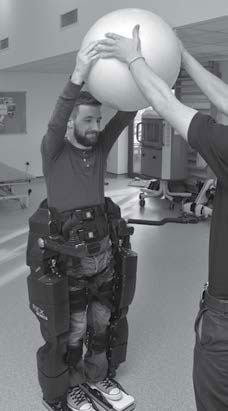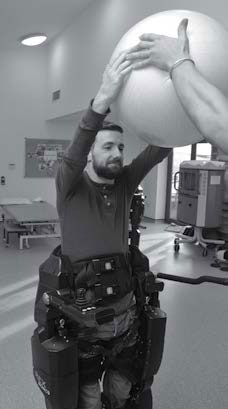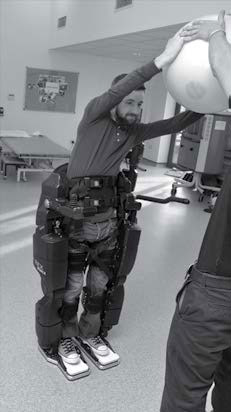 01 Motion is generated by 10 custom designed linear actuators which provide the power to move REX and a user of up to 100Kg.
02 The custom carbon fibre pelvis provides the strength and stiffness required to support the user whilst minimising the weight of the system.
03 Half a million lines of proprietary code control 27 onboard microprocessors that manage the actuator systems – forming the core of a custom movement control system which has been developed to ensure stability throughout all phases of the movement cycle.
04 REX is designed to work with users of different heights. The device leg length can be readily adjusted enabling precise and accurate alignment to the user's joints. Adjustment can be quickly and easily performed between different patient sessions in a clinic.
05 The harness and abdominal straps help support the user and hold them upright. They are also fully adjustable to provide maximum user comfort.
06 Wide foot plates provide stability and ease of movement across flat surfaces.
07 Powered by rechargeable, interchangeable batteries. The REX lithium-polymer battery (29.6V, 16.5Ah) carries a charge sufficient for approximately sixty minutes of normal use. Two batteries are provided ensuring continuous use.
08 Custom designed carbon fibre cuffs, with double tethered straps, hold the legs firmly but without creating pressure points. The removable foam padding allows easy maintenance and compliance with infection control regimens.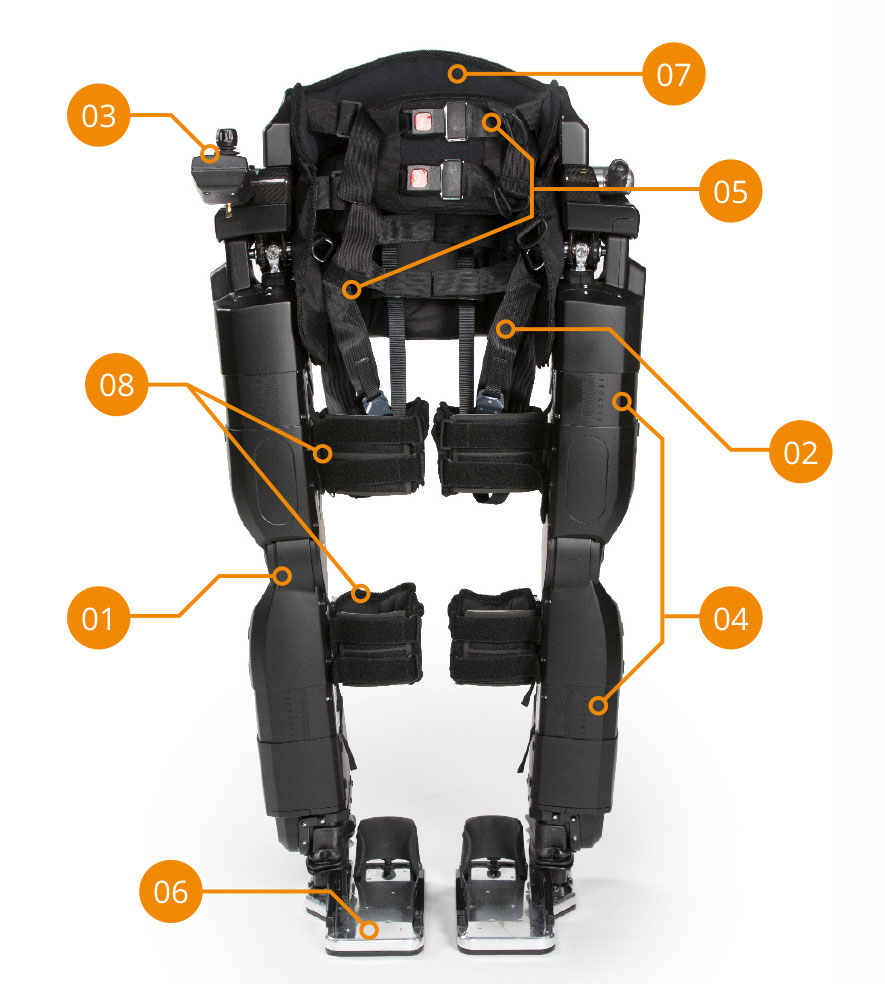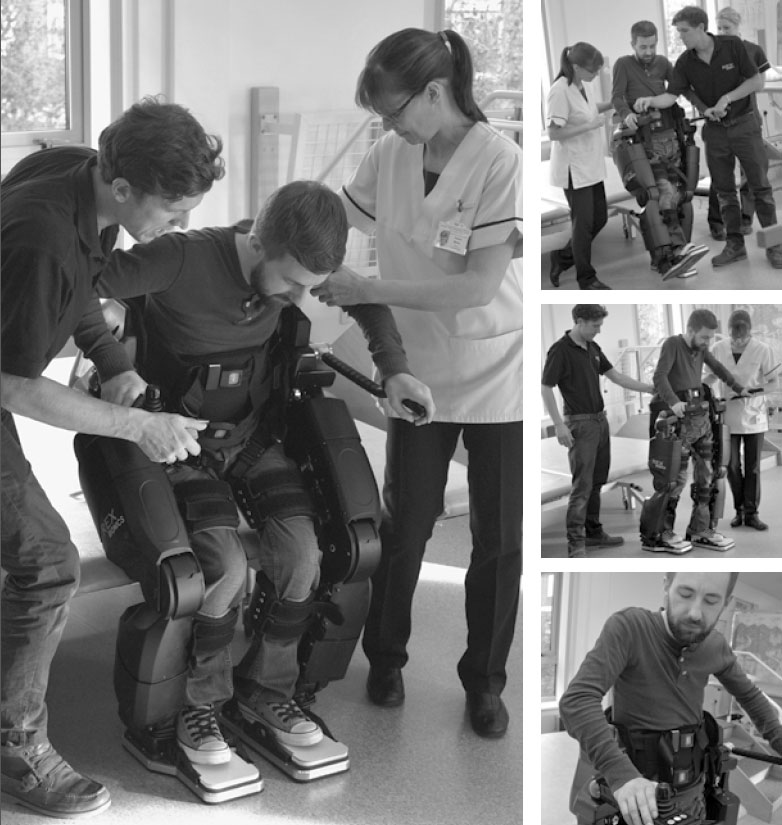 Learning to use REX is quick and easy for the user.  RAPPER II showed users can gain autonomous control in their first session.
REX is also fully adjustable to an individual's  measurements within minutes, so it enables a high turnover of patients to use in a clinic.
It didn't take me as long as I thought it would to learn how to use REX and when I moved the joystick and stood it felt quite natural. The main benefit to me is getting a full range of movement in my legs, I get a good stretch from REX when I move forwards, backwards and sideways.
I was surprised how quickly I learned how to stand and walk in REX. Since using it my spasms have decreased, I'm sleeping better and the exercise I get from using REX gives my body the work-out it needs.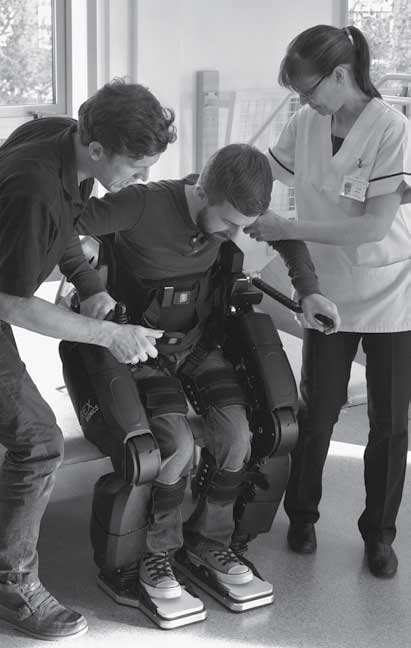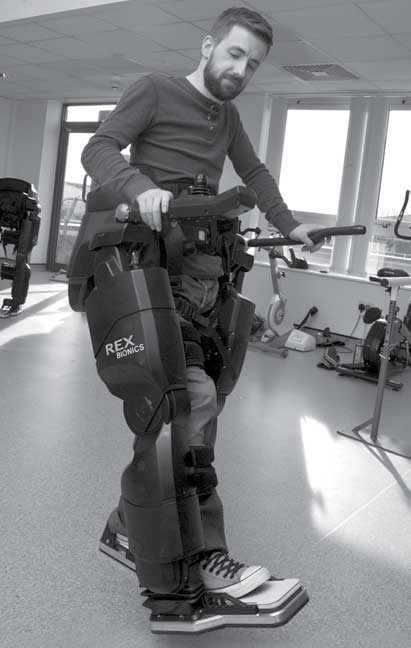 I use REX in my rehabilitation centres because it can take the user through a range of active assisted movements and can be used as part of a rehabilitation programme for patients with spinal cord injury and hemiplegia arising from stroke or a traumatic brain injury
REX CAN BE USED BY A WIDE RANGE OF PEOPLE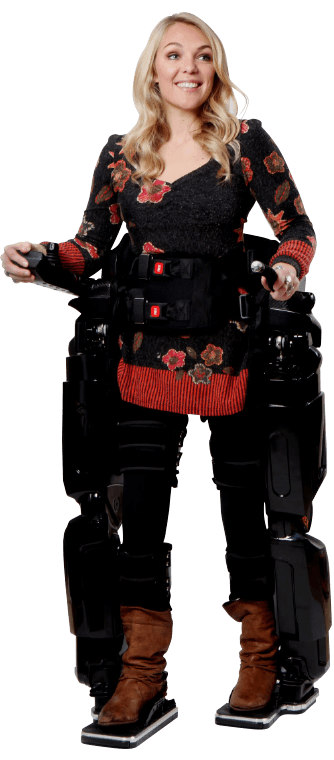 Designed for rehabilitation centres and hospitals, rapidly adjustable for each user1
1. Registered in the US for use under the supervision of a healthcare professional