"GETTING UP AND WALKING WAS SOMETHING THAT I'VE ALWAYS BEEN TRYING TO DO SINCE I HAD MY ACCIDENT, AND IT JUST BLOWS YOU AWAY TO BE ABLE TO GET UP AND DO THAT AGAIN."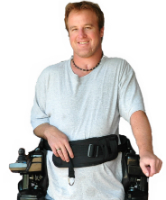 Since his accident eight years ago, Jarard Pearce was determined to walk again, always maintaining that he would walk again before he was thirty. With the help of Rex Bionics, Jarard was up walking three months after his thirtieth birthday.
Whether at his work-bench, or standing face to face with his partner for the first time, the practical and emotional benefits of using the REX are simply immeasurable.
Being a practical and hands-on person, Jarard really appreciates not having to use crutches or a walking frame for support when in the REX.
It would be fair to say that it's not only Jarard who has benefited from using the REX. The joy on his partner's face when she saw Jarard stand and hugged him while standing for the first time was plain for everyone to see. The REX smile is infectious, and not only to its users.
Besides the practical and emotional benefits, perhaps one of the biggest benefits for Jarard has been the pain relief.
"Forty-five minutes to an hour in the REX means I feel I can reduce my pain relief medication, which is obviously a good thing."
For Jarard, the REX robotic exoskeleton isn't simply an alternative to moving about in his wheelchair, it's the freedom to enjoy those moments with his friends and family that so many others take for granted, as well as enabling him to reduce his dependence on pain-relief medication, increasing his overall emotional and physical well-being.