"BEING ABLE TO STAND WITH OTHERS AT EYE-HEIGHT AND SIMPLY HAVE A CONVERSATION WAS MIND-BLOWING; ALL I WANTED TO DO WAS SMILE."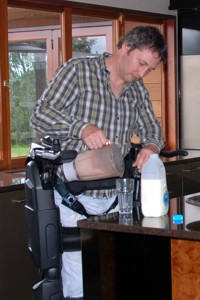 Lee has an outlook on life that some may find difficult to imagine, describing the accident which broke his back in October 1989 as one of the best things to ever happen to him, though it took him a few years to realise this. Professing to being quite inactive prior to his accident, Lee has since gone on to complete numerous long distance events in his RaceChair.
It's easy to see then, the appeal of the REX for someone like Lee. Describing the feeling of using the REX, Lee says:
"It just feels good, like eating healthy, I feel better after the first step"
Although the exoskeleton may not yet be a complete replacement for the wheelchair, it's a great complement, allowing Lee to feel better and train longer.
Although Lee is passionate about competing in his RaceChair, he also admits to feeling "REX-envy" when seeing other people using REX.
"You want to keep getting REX-ed up and walking when watching others."
It's not only the physiological and psychological benefits that Lee noticed, it's the practical applications as well. A huge advantage is having the ability to stand with his hands free and reach for something on the top shelf. Trusting in the balance of the REX has taken Lee a little getting used to, but after a bit of time in the REX, Lee was pleasantly surprised by how well it supported him.
It can be difficult to explain the life changing experience which is using the REX, particularly to those who are not wheelchair users:
"It needs to be experienced."