"I STILL DREAM THAT I CAN WALK. NOW THAT DREAM HAS COME TRUE! REX HAS CHANGED MY LIFE."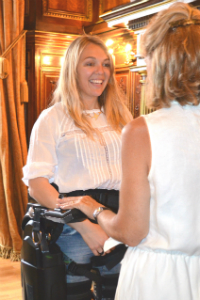 Sophie Morgan has a life which many would be envious of, having presented for BBC, traveled extensively for business and for pleasure, and built a formidable career as an artist, designer, TV presenter and model. However, after being paralysed below the chest at the age of 18, Sophie has missed some of the things most of us take for granted, in particular, an unrestricted hug.
"I'm always looking for hugs", says Sophie, "but it's always up, like that", she says, reaching out of her wheelchair.
Additionally, Sophie finds that one of the restrictions of being in a wheelchair is the limited view or the lower perspective – "it's something that you get used to…but you never really feel that comfortable with, or that happy about". The REX robotic exoskeleton has allowed Sophie to stand at her full height for the first time in 10 years, and the joy as she measures herself against her friend is evident.
REX really is a dream come true for Sophie; a dream which she shares with many mobility impaired people, to stand and walk again.
"Walking along Brighton Beach [promenade] was incredible, and returning in a wheelchair will never be the same."
As you would expect from someone who has faced such adversity head-on and come out the other side so strongly, Sophie can't help but imagine the enormous potential for REX technology.
"Who knows where we will be 10 years from now? I could even be running down Brighton Beach."
To see Sophie's interview with Channel 4 in the UK, please click here. Or, to find out more about Sophie Morgan, please visit  www.sophiemorgan.com